https://www.chocolate.lviv.ua/en/company/news/54-2018-12-01-123502-161/Winter Holidays
Winter Holidays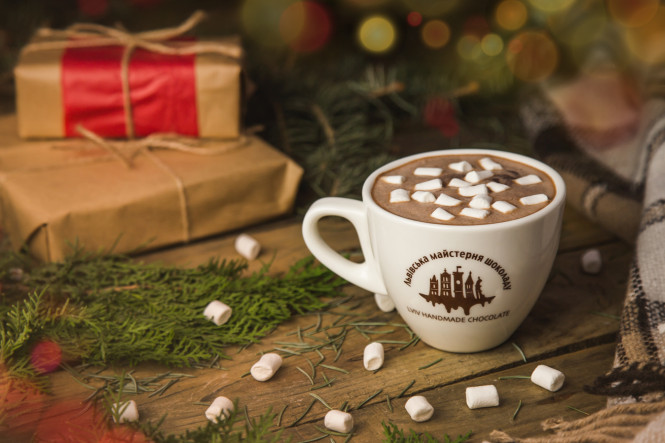 The magic season has come: streets are being blessed with snow, chimneys are releasing their smoke, roofs are wearing snow hats, frosty air is cheering people and festive atmosphere is being in the air. It's the time to be warmed up with a cup of hot drink in your favorite café. That's why, our artists, inspired by the coming festive time, created a special "Winter Holidays". Delicious, aromatic drinks and desserts conveying a jolly mood for the happy season.

"Mishmas" is a combination of dark chocolate, milk, cherry syrup, mint extract and soft marshmallow. It goes best in any time of cold season, only you should wrap yourself in a warm blanket and relax comfortable in your favorite corner of the café.
 
Warm "shush" rendezvous will be complete by "Cranberry punch"- a drink, made of cranberry and orange juice, cranberry, orange, lemon and aromatic mint.
"Sea-buckthorn tea", delicious and full of vitamins, is a bright combination of sea-buckthorn, orange, cinnamon, anise and mint.

"Spiced grog" is a drink made of milk, ice cream, vanilla syrup, anise, cinnamon and clove, garnished with whipped cream. An ideal companion for a romantic rendezvous.

A new offer of this winter is "Chocolate cream carambole". This is a dessert with tender cheese, white chocolate, cream and "Oreo" biscuit.

Let this winter be filled with joy, magic and happiness. Our appetizing desserts and drinks will be a great addition to this!

The offer "Winter Holidays" is starting in "Lviv Handmade Chocolate" in Lviv on December 1 st , and in another cafés all over Ukraine on December 4 th and it will last till the end of the winter! So, everyone will have enough time for enjoying these delectables!