https://www.chocolate.lviv.ua/en/company/franchising/Franchising
Franchising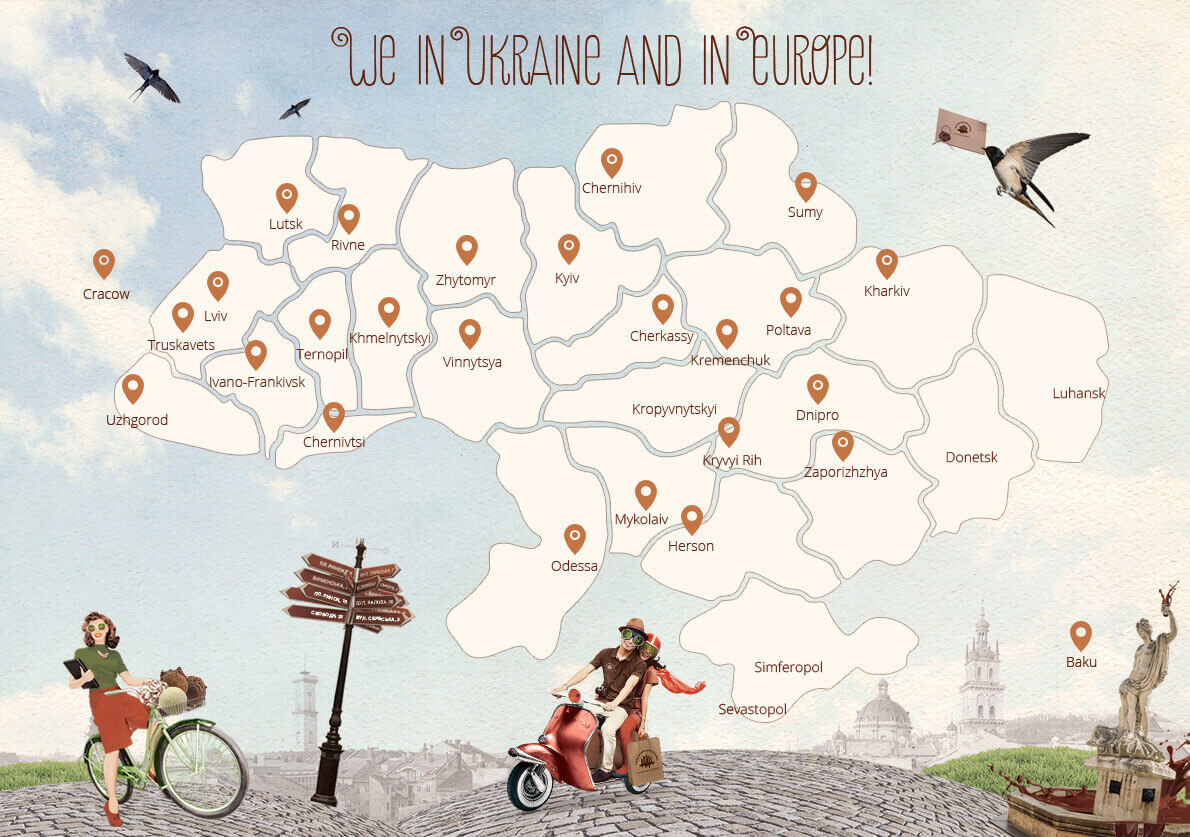 «Lviv Handmade Chocolate" creates chocolate and produces happiness with a good taste…
It was founded in 2009 in Lviv and became an integral part of modern Lviv, as since Medieval Times the city has been well known for "delicious confectionery" and starting from the 19th century Europe began exporting chocolate from Lviv. Chocolate has become a traditional souvenir from "Lviv Handmade Chocolate" for more than 10 years that tourists bring to another cities and countries. Local people are really proud of it.

In 2010 "Lviv Handmade Chocolate" started to offer a part of Lviv nationwide, and grew into a chain of chocolate shops and cafés creating a "Lviv unique atmosphere". In December 2015 "Lviv Handmade Chocolate" started to develop its chain in Asia and opened a restaurant in Baku, the heart of Azerbaijan. Nowadays there are 52 restaurants in 28 cities within Ukraine, including 4 successful shops in Baku.

"We are happy to realize that Lviv Handmade Chocolate has become one of the most successful manufactures of handmade chocolate in Ukraine over the years of its existence, but at the same time it is a great responsibility for our team and partners. We are moving forward to surprise our guests with a vast unique assortment and simultaneously to confidently guarantee the quality of chocolate products. Concern about our guests is closely connected with concern of our employees, as these two factors are the main keys of our successful business, accompanying together. That's why, values of Lviv Handmade Chocolate are focused on team development in order to meet guests' needs. To provide happiness and positive emotions for people is the main mission of our Company."
Nataliya Dubova, the Founder of the Company

Our Company is actively developing franchising projects in all parts of Ukraine and abroad. First and utmost, regional centers and cities counting more than 200 thousand of residents as well as cities in Europe, Asia and other continents are remaining a priority for the further development of our business. We are open for having a dialogue with everyone who loves chocolate so much as we do.
You will find our actual network of shops and cafes on the page "Chocolate Houses"

If you share our values and if you wish to open a family business, please be acquainted with the principal information that will help you to make your choice.


Basic conditions of collaboration:

1.    A lump-sum payment is calculated individually. It varies within 15, 000 USD for European countries and the Middle East. For geographically distant countries (the Southern Asia, the Eastern Asia and other continents) the amount of a lump-sum payment will be increased according to calculated expenses.
2.    The assortment of Lviv Handmade Chocolate products is provided according to the agreed price for Franchisee.
3.    Franchisee pays an annual payment (up to 6% from total turnover) - royalty sum which is defined during concluding an agreement. When opening, 2 months are provided for not paying it.
4.    In accordance with statistics, the average sum of investment varies from 50, 000 USD to 150, 000 USD (depending on a condition of the premises and a project design).
5.    Franchisee will bear the expenses of team accommodation during project preparation till café start-up (another expenses are to be paid by a lump-sum payment).
General demands while choosing a location and premises:

1)   Preference is given to premises with a façade entrance and minimum one façade window (it is highly recommended to have a location in the shopping mall next to kid's zones or a supermarket). We suggest a location in the city centre or main shopping malls;
2)   An area of premises 120-150 m², min 90 m² of which is sales area;
3)  Power of electricity consumption - not less than 16kW (there is a need to increase power in the countries of an average temperature more than 25°C with relation to the number of air conditioners);
4)   Availability of ventilation premises project;
5) A possibility to locate an outdoor air conditioner not on a façade wall (a possibility to individually regulate temperature within (18 ±3)°C in shopping malls);
6)   Desired parking spaces next to the café and a possibility to place a summer terrace;
7)   Availability of a ramp.
Once you pay the lump-sum payment, you will receive the following:

•    the right to use Lviv Handmade Chocolate TM;
•    the use of a fully tested financial model;
•    the calculation of an economic profitability model including pay-off period;
•    maintenance / support on all stages during start-up involving the project team:
◦   elaboration of a design-project;
◦  program software (it is individually adapted taking into account peculiarities of Lviv Handmade Chocolate business activity);
◦  staff training and performance review carried out by Training Centre of the Company;
◦  concept implementation and corporate standards;
◦  Franchisee guide, containing detailed step by step instructions, rules, documentation concerning running a business that will assist business activity during start-up and in the future;
◦  the menu and standard recipes;
◦  marketing assistance;
◦  café start-up involving the project team; 
◦  process optimization of the café at the date of opening.
Franchisee's support during Franchising Agreement duration includes:

•    training programs and organization of education system for employees;
•    assistance of Franchising Manager to solve operational  issues, answer unusual questions and contact with relevant specialists of the Company;
•    consistent renewal of assortment in the shop taking into account market tendency and holiday periods;
•    full provision of chocolate products in the shop merely from the manufacturer;
•    elaboration and supply of souvenir products in the shop;
•    provision of branded materials and dishes;
•    constant menu renewal in the café;
•    design services;
•    elaboration of polygraphic materials for implementing marketing events;
•    a possibility to use loyalty system;
•    an assistance to control staff performance and keep to service standards;
•    an opportunity to adopt experience of partners-franchisee from another regions.

If you are self-fulfilled, responsible, full of initiative and have a wish to become a part of our successful Company, please send our Project and Program Manager your filled questionnaire form.

Best regards,
Lviv Handmade Chocolate Team
Download:

Application form
Project and program manager of Franchising Department:
FRANCHISING OPPORTUNITY
REQUEST FOR
LVIV HANDMADE CHOCOLATE