https://www.chocolate.lviv.ua/en/company/news/37-2017-09-20-150827-161/Art Can Be Sweet!
Art Can Be Sweet!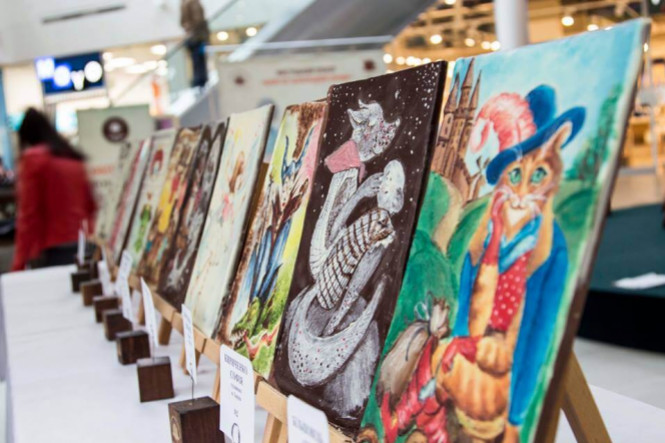 An art planner "A Chocolate Artist" took place in Lviv Handmade Chocolate on September 5th 2017. It's a creative competition of artists: chocolatiers and chocolate decorators who deal with the most delicious material as true chocolate.
"Having organized the planner, Lviv Handmade Chocolate continues a last year tradition of art events aiming at professional and personal development of chocolate artists. Such events are a great opportunity to exchange experiences, ideas and skills among chocolatiers," comments Halyna Ivanyk, Training Centre Manager.
During the art planner artists from different parts of Ukraine gathered in Lviv the mall "Victoria Garden's" where they competed to get a title "The Best Chocolate Artist" and "The Most Creative Chocolate Decorator." The artists performed their own chocolate sketches while chocolate decorators demonstrated a skill of decorating chocolate figurines. There were 18 participants totally: 11 chocolate artists and 7 chocolate decorators.  
Besides the art aim, the planner had the charitable goal: all chocolate pictures and decorated figurines made by chocolatiers were given to children establishments, so that kids could taste true organic chocolate sweets. Guests who visited the art planner could take part in free of charge master classes, quizzes, informative stories as well as be a chocolatier.
All participants received many positive emotions and a great experience as well as rewards and unique gifts from organizers. Anastasiya Spivak (Ternopil) became "The Most Creative Chocolate Decorator" for skillful combination of various techniques in decorating chocolate products. Inha Sumyna (Cracow) got an award in "The Best Chocolate Artist". Valeriya Semenchak (Lutsk) won an award in the nomination for Audience Award.