https://www.chocolate.lviv.ua/en/company/news/33-2017-02-06-150125-172/Kissing Day
Kissing Day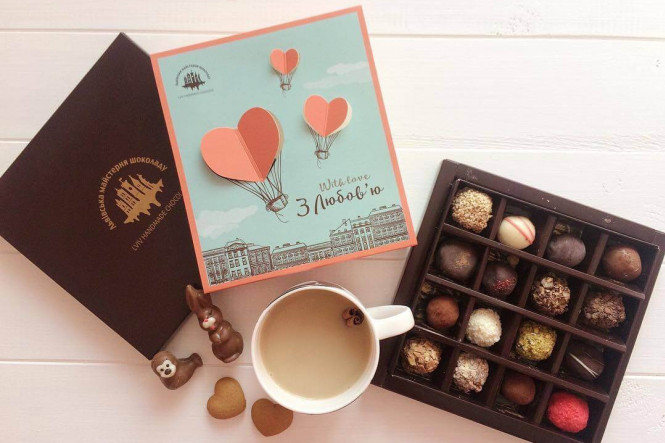 Kissing Day is a day when you wish to gift your love sweet surprises or make sweeter your declaration of love!
It's high time to impress your partner with delicious unexpected and unique not typical sweets. Everyone has a chance to choose the most attractive chocolate hearts, set of sweets and interesting thematic chocolate figurines. You can also plan a sweet surprise in advance: together with Lviv chocolatiers you can prepare an individual chocolate product with a romantic personalized lettering or an archive photo that are so sweet to talk about your feelings! Your dearest person deserve everything be full of chocolate!
In order to share with your sweet feelings Lviv Handmade Chocolate invites to spend Kissing Day together. The most chocolate photographer-chocolatier will catch the greatest moments during a whole day: warm hugs, sincere smiles, tears of joy and the sweetest kisses… Something magic or even magnetic will wander in Lviv Handmade Chocolate: all guests will have a chance to dive into the world of pantomime that can show the most secret feelings, using a magic without words. The romantic evening will be accompanied by gripping guitar music. No one will be left without being kissed this evening!
Moreover, on February 3 Love Post will take place in all Lviv Handmade Chocolate cafés all over Ukraine. All you need is to select a sweet gift for your partner and leave it together with a postcard in any Handmade Chocolate café. Our "postmen" will invite a lucky person to get a present on February 14. Love Post in Lviv will be arranged at the following addresses: 5 Sichovykh Striltsiv Str. and 226А Kulparkivska Str. "Viktoria Gardens" mall.
Sweet draw wins to honour Kissing Day will take place for real romantic people and Lviv chocolate fans. Select chocolate gifts for your beloved person in Lviv Handmade Chocolate shops in Lviv or order at www.chocolate.lviv.ua during February 11, 12 and win a romantic evening for two. A draw win of a set of sweets "Strawberry Kisses" will be arranged for followers of the official Lviv Handmade Chocolate webpage in Facebook.
Follow our news at Facebook and kiss your beloved person with a hashtag #KissingDay!