https://www.chocolate.lviv.ua/en/company/news/26-2016-10-13-161158-172/Tournament "Chocolate Barista 2016"
Tournament "Chocolate Barista 2016"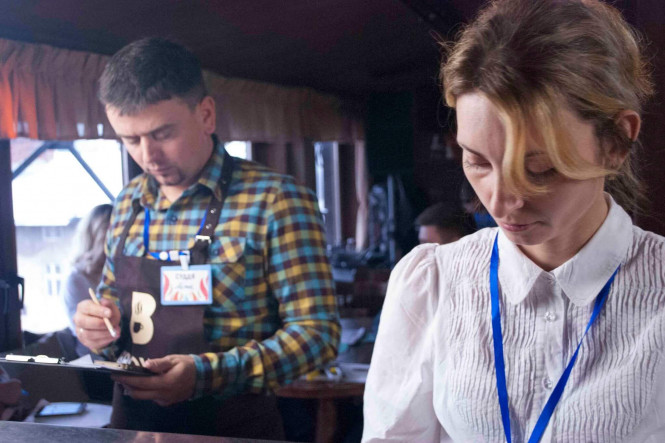 On October 12 the second "Barista Tournament 2016" was held that united coffee artists of Lviv Handmade Chocolate and experts of coffee culture in Ukraine. Coffee championship has already become a tradition of a chocolate team. It's a complicated and prestigious competition at the same time. It's an essential stage in life and development of a professional barista. Each participant must introduce himself and his coffee during 10 minutes as well as prepare three coffee drinks: 2 Espresso, 2 Cappuccino and 2 their own coffee drinks.
There were 23 barista of Lviv Handmade Chocolate in this competition: Halyna Strelyuk (Kyiv), Denys Bondarenko (Odesa), Vadym Svintsitskyy (Vinnytsya), Denys Pavlyuk (Khmelnytskyy), Aneta Plastun (Cracow, Poland), Iryna Demydyuk (Lutsk), Iryna Danyliv (Truskavets), Hanna Plastun (Kherson), Dmytro Polischuk (Lviv), Roman Pylyp (Lviv), Andriy Petiy (Kyiv), Anastasiya Yefimova (Kharkiv), Vita Nimchuk (Lutsk), Maryana Kostiv (Ivano-Frankivsk), Roman Kasparevych (Lviv), Oleksiy Scherbakov (Chernihiv), Vitaliy Krokhmalyuk (Odesa), Andriy Karpuzov (Rivne), Anastasiya Borodach (Kharkiv), Anzhelika Huryn (Kyiv), Dmytro Halyan (Lviv), Ihor Yurkivskyy (Odesa), Danylo Zaletskyy (Kyiv).
Higlhy-qualified coffee experts from Ukraine rated the participants and their performance: Mykhailo Datsyo, Yuriy Bankovskyy, Yaroslav Boshenov, Nataliya Faryna, Ivan Bolharov, Dmytro Vysochanskyy.
Dmytro Halyan from Lviv won the title "Chocolate Barista 2016" who prepared Espresso and Cappuccino greatly and impressed judges with his own coffee drink. The second place won Dmytro Polischuk (Lviv) and the third - Maryana Kostiv (Ivano-Frankivsk) who showed their true love to coffee art.
All barista during the championship do not only compete to win the title of "Lviv Handmade Chocolate Best Barista" but get a new experience and practical knowledge from judges that will definitely motivate to be better.
The first coffee tournament "Chocolate Barista" took place last year on July 22, 2015. 17 coffee artists took place in the competition from all chocolate Ukraine and Oleksiy Butin from Ivano-Frankivsk won the title of "Chocolate Barista 2015".