https://www.chocolate.lviv.ua/en/company/news/15-2016-04-04-171416-172/Chocolate Weekend in Lviv 2016
Chocolate Weekend in Lviv 2016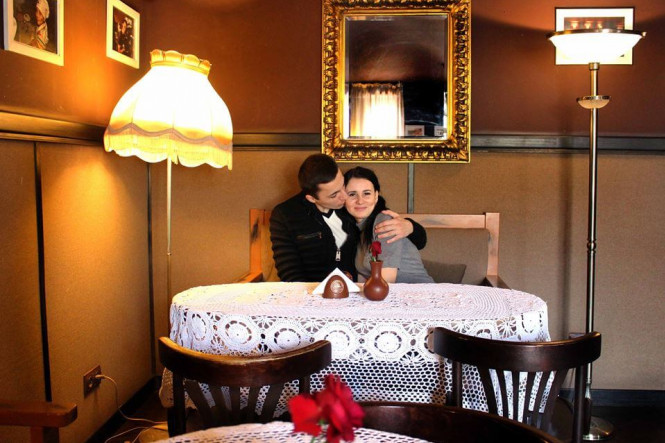 Traditionally, Lviv Handmade Chocolate invites you to spend an unforgettable weekend in Lviv in spring!
Each of you who ordered chocolate products from Lviv Handmade Chocolate in our online shop during February 5-26 has automatically become a participant and a potential winner!
The week semi-finalists were chosen during three weeks and the winner was announced on February 26.
A set of chocolate sweets from Lviv Handmade Chocolate and Hotel Dnister received Natalia Bogatyryova from Lviv.
Yana Sladkovska (Zhmerynka) and Serhiy Riabokon (Novomyrgorod) became the semi-finalists and got sweet gifts from Lviv Handmade Chocolate.
According to random.org the winner of "Chocolate Weekend 2016" was Valeria Shevchyshyna (Mykolaiv).
"Chocolate Weekend in Lviv" was incredible for a sweet couple, Valeria and Maksym: accommodation including breakfast in Hotel Dnister, being one of the best hotels in Lviv; an unforgettable chocolate evening for 2 persons in Lviv Handmade Chocolate including an individual masterclass from our professional chocolatier, a tour and chocolate fondue. And, of course, unique chocolate souvenirs from Lviv!
Thank you for a positive feedback from a young family from Mykolaiv who spent chocolate time in Lviv:
"Dear Lviv Handmade Chocolate!
It was an unforgettable and wonderful chocolate journey to fabulous Lviv. We fail to describe those great moments of our chocolate weekend but, anyway, we'll try.
Beautiful Lviv, you are attracting at once and from the first sight. It's just a fairy-tale when everything is in chocolate!
We didn't expect to win in "Chocolate Weekend" but it was a great surprise. We've experienced numerous cool "chocolate" moments for a small period of time: Chocolate National Holiday, a sweet masterclass, a tour in Lviv Handmade Chocolate and exciting journey into the chocolate history just to the chocolate God Quetzalcoatl (whose name we couldn't remember)… There is no sense to name everything; it's worth noting that all moments will forever stay in our hearts.
We are very grateful to those people who organized our "Chocolate Weekend", especially Natalia, Raisa, Mr. Andriy, Ruslan, etc. Thank you very much for the delicious weekend in the wonderful city of Lviv. We express gratitude to all chocolate artists in Lviv Handmade Chocolate for mouthwatering handmade chocolate sweets. You made our weekend unforgettable! March 5-6, 2016, Valeria and Maksym."