Chocolate Candy
Chocolate Candy
A combination of praline with milk chocolate and dry crispy flakes coated in milk chocolate.
Shelf life: 90 days. Storage: store at temperature (18±3)°С and air relative humidity not more than 75%.
Allergens
soy lecithin, milk, gluten, hazelnut
Chocolate Candy
pcs
Added!
more chocolate...
Lemon marmalade
pcs
Added!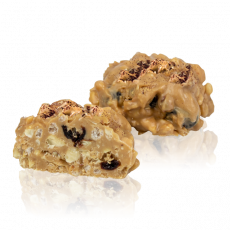 16 UAH
A combination of almond praline, blackcurrant, almond and puffed rice coated in white chocolate.Shelf life: 60...
Nusvald
pcs
Added!
Sophie
pcs
Added!
12 UAH
Marzipan with light milk cream and a whole walnut covered with white chocolate.
Franz & Joseph
pcs
Added!
14 UAH
Pistachio marzipan filling with two caramelized hazelnuts coated in white chocolate.
White Hoverla
pcs
Added!