https://www.chocolate.lviv.ua/en/company/news/98-2023-01-13-160414-25704/We've achieved our goal!
We've achieved our goal!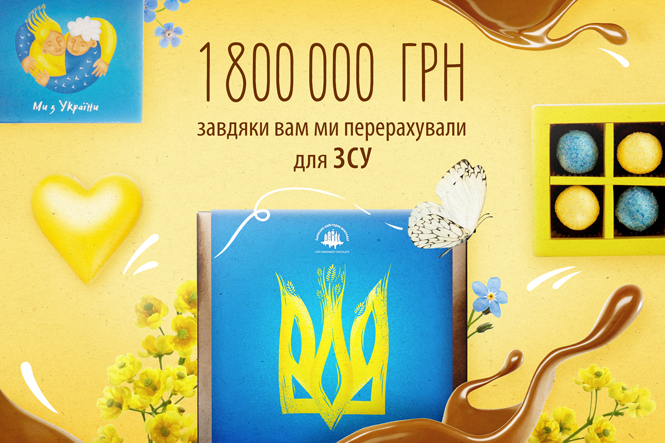 We have been proving for a long time what powerful and unconquerable Ukrainians are in the fight with evil.
 Of course, each of us feel exhausted sometimes. It happened that we've become discouraged, too. Nevertheless, we know for sure that after any night, there is always a great dawn.
That's why, we lifted up, became stronger and moved forward. We are aware how difficult it can be because we've had similar emotions.
Thus, we would like to dedicate this news to you, our sweet lovers! We are grateful for your unity and trust.
            Notwithstanding all troubles, we've managed to collect and donate 1.821.843 uah for the Armed Forces of Ukraine.
            The number is surprising - as it has exceeded our expectations and the set goal!
            What's next?
            Please do not stop!
            We are continuing to transfer 20% from sales of the patriotic collection to support our heroes. So, we are looking forward to seeing you in our chocolate cafes and shops in order to amuse you with something sweet and transfer your donation.
            Chocolate power of Ukraine - doing good deeds together!