https://www.chocolate.lviv.ua/en/company/news/53-2018-10-03-094050-161/Chocolate Coffee Competition. The Winners.
Chocolate Coffee Competition. The Winners.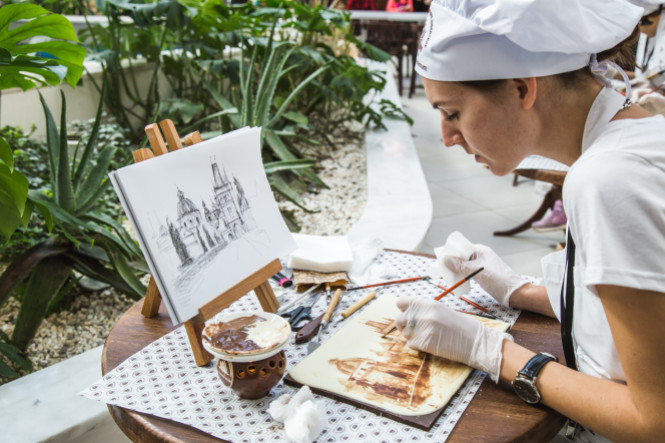 This Sunday, September 30 th , Art plein air and Barista Tournament have been held in "Victoria Gardens" Shopping Mall.
Totally, more than 30 participants took place in the competitions from all restaurants of "Lviv Handmade Chocolate".
Chocolatiers and artist decorators created pictures and sketches on the subject of "The Most Famous Architectural World's Buildings" using their own technique. They made pictures on a chocolate layer with the help of brushes, palette knives, spatulas, etc. They used dark and white chocolate that somehow complicated the task. But the result was overwhelming!
Our charismatic baristas demonstrated their skills in coffee preparation and their own coffee drinks on the neighbouring stage. They created with imagination, used sorbet, spices, chocolate or another secret ingredients.
Within Art plein air in the nomination "The Most Creative Chocolate Decorator" the award was given to Petryuk Adriana (Ivano-Frankivsk) and Semenchak Valery (Lutsk) won "The Best Chocolate Artist".
The winner of Audience Choice Award were Petryuk Adriana (Ivano-Frankivsk) and Doroshenko Olena (Kiev).
Three best winners of Barista Tournament are: Svistyl Igor (Lviv) – the 1st place, Troyanenko Vladislav (Odessa) – the 2nd place, Golubchinok Maxim (Kiev) – the 3rd place.
Thank you very much for joining all our event!
Please visit our gallery to see more photos
https://www.chocolate.lviv.ua/uk/company/gallery/41-2018-10-02-124705-186/