https://www.chocolate.lviv.ua/en/company/news/48-2018-07-04-220852-161/Berry menu
Berry menu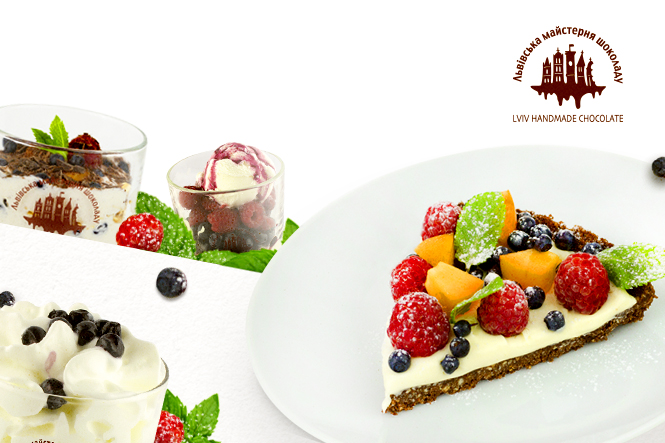 Sweet and juicy berries have already ripened at the warm summer sun. That's why, it's high time to prepare mouth-watering berry desserts.
  Blueberry, raspberry and strawberry are greatly combined with ice cream, yoghurt or chocolate.     We've created the best combinations of tastes.
 Each guest can savor and enjoy the following desserts at Lviv Handmade Chocolate:
 Raspberry shake - a combination of milk, ice cream and fresh raspberry.
 Fruit duet - a tender combination of cream anglaise, fresh blueberry, blueberry syrup and a choice of fruits: blueberry, raspberry and nectarine.
 Berry trifle - a delicious sponge cage with milk chocolate and fresh blueberry topped with whipped cream.
 Berry granola - a combination of granola, vanilla yoghurt with whipped cream and assorted fresh berries
 Chocolate berry tart - white chocolate tender ganache with assorted fresh berries and chocolate layer.
 You're welcome to Lviv Handmade Chocolate to choose your favorite composition of tastes!