https://www.chocolate.lviv.ua/en/company/news/105-2023-05-01-103636-25704/A Seasonal Menu "Strawberry Overtures"
A Seasonal Menu "Strawberry Overtures"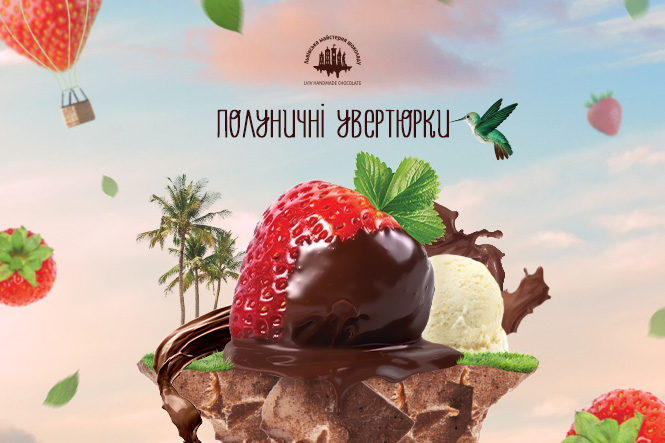 While spring rays are warming up everything around us, we are creating new desserts with fresh berries, thus you always have a great occasion to enjoy our spring palette and its elegance of tastes! You'll find fresh and juicy strawberry, airy cloud-like cream or classic but a favourite combination of chocolate and ice cream.
Hurry up and choose what you'll savour today:
Strawberry with whipped cream — juicy strawberry covered with whipped cream.
"Cream Meringue" Cake — a combination of airy meringue with soft mascarpone cream cheese and strawberry confiture with fresh berries.
Dessert "Strawberry Tiramisu" — Savoiardi biscuits, dipped in strawberry-citrus sauce, with tender mascarpone cream and fresh strawberry.
Strawberry Aperol – a non-alcoholic cold cocktail with orange and strawberry. It goes perfectly with a sweet "Velvet Truffle".
Strawberry Fondue — it is nice to coat fresh strawberries in assorted melted chocolate - dark, milk or white.
And, of course, we can't do without your best-loved ice cream with strawberry - tender classic white ice cream with fresh strawberry.
You can also order strawberries as an add-on to any dessert during the seasonal strawberry menu.
We are looking forward to seeing you!