https://www.chocolate.lviv.ua/en/company/news/10-2016-02-04-132112-172/"Art and Chocolate" Exhibition
"Art and Chocolate" Exhibition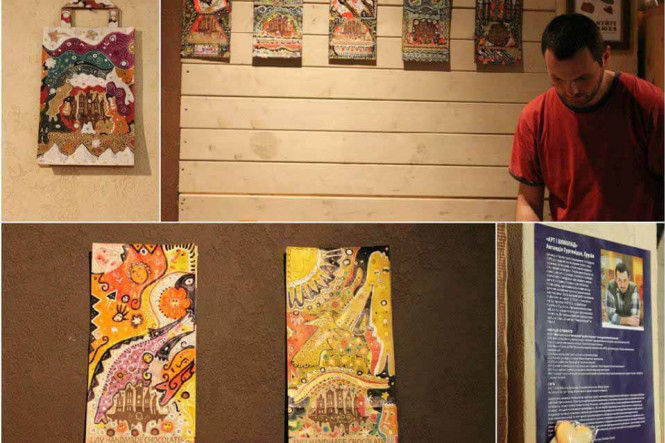 "Art and Chocolate" Exhibition is a project of Lviv Handmade Chocolate and a well-known Georgian artist Avtandil Gurgenidze.
Once having visited Ukraine, a Georgian artist brought to his home many sweets from Lviv Handmade Chocolate. He painted more than 50 pictures on chocolate wraps and suitcase. In May this exhibition arrived from Tbilisi to Lviv.
On May 1st the exposition and the press conference took place after which the artist performed a masterclass in creating a chocolate picture.
Within the project Lviv Handmade Chocolate produced a special limited series of packaging to popular chocolate products – a set of chocolate sweets and chocolate tablets where the artist's pictures are depicted. These products as well as a special postcard with his signature could be bought by art connoisseurs during the exhibition.
Avtandil Gurgenidze is the painter, often inspired by unusual things. Besides external and internal walls, paper, drawing canvas and other common surfaces, he is fond of painting on rather strange objects. For example, in addition to drawing pictures he is keen on extreme art: his bright pictures can be seen on the height of 3750 m, high up in the mountains (МЕТЕО project), on lot of building façades, ski stations, on the streets and squares of Georgian cities. The author's diploma paper decorated a metro station "Nadzaladevi" in Tbilisi.