Hazelnut Gudz
Hazelnut Gudz
Milk chocolate ganache with caramelized hazelnuts dusted with milk chocolate.
Shelf life: 60 days. Storage: store at temperature (18±3) °С and air relative humidity not more than 75%.
Allergens
milk, soy lecithin, milk protein, hazelnut
Hazelnut Gudz
pcs
Added!
more chocolate...
14 UAH
Milk chocolate ganache with light caramel and coffee flavor in dark chocolate and crispy flakes.
Dark Chocolate Bambetel
pcs
Added!
14 UAH
Delicious praline with marzipan rum filling covered with dark chocolate.
Avantura
pcs
Added!
13 UAH
Marzipan with light milk cream and a whole walnut covered with white chocolate.
Franz & Joseph
pcs
Added!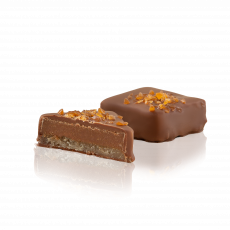 14 UAH
Marzipan with rum flavor, chocolate caramel cream coated in milk chocolate and dusted with caramel.
Amber
pcs
Added!
Sophie
pcs
Added!